Emma Hayward M.Ost DPO – Registered Osteopath, paediatric osteopath and clinical Pilates teacher working in Whitstable, Kent and London
Emma is an experienced Osteopath, Paediatric Osteopath and clinical Pilates teacher and is passionate about Osteopathy and movement as an integral part of health for the whole family. She believes that supporting even one member of a family supports all members and often treats whole families.
She specialises in paediatrics, woman's health, pregnancy and postpartumn.

COVID-19 UPDATE 
Emma is now again available for  face-to-face Consultations.  A Prescreening call will be made before all appointments to mitigate risk of any spread of Covid-19. See Covid risk assesment policy below for full details.
Where face to face appointments are not possible or appropriate, Virtual Appointments are still available, where symptoms can be discussed, movement and posture can be assessed and a working diagnosis established. This can form the basis of a home mangement plan, including exercise and clinical pilates prescription.
Please email to make a booking: hello@emmahayward.co.uk

Emma is also conducting clinical pilates classes via Zoom. 1-2-1 and small group classes availble. Please email to discuss further and book into a class.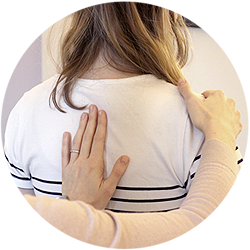 Osteopathy
Support the body to express health by positively affecting the body's musculoskeletal, nervous, circulatory and lymphatic systems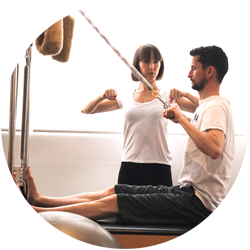 Pilates
Holistic exercise system designed to elongate, strengthen and restore the body to balance
 Emma Hayward Osteopathy, Wellbeing Centre, Ikigai Holistic, 83 Canterbury Rd, Whitstable, Kent CT5 4HQ
Available for online  Consultations and  Clinical Pilates via Zoom.
BOOK NOW!
"Emma is a holistic practitioner and approached my baby and I with such care and sensitivity given the anxious time of being a first time mum especially during the pandemic. Her passion for supporting babies and their families is clear. She took the time to take a very detailed and thorough history and really understood our background; the challenges my baby was facing following a difficult birth and subsequent feeding issues, tongue tie and generally being unsettled. Great improvements have been made during the time we have been seeing Emma, my baby's neck and jaw tension has resolved and breastfeeding has improved significantly. I am so pleased with the progress we have made. Thank you so much Emma for your care, professionalism and kindness during this time."
"Emma has treated both me and my little boy. I first took him to see Emma as a newborn and immediately following treatment, he slept more consistently and breastfed more comfortably. I was nervous about my son crying through treatment, needing to be fed, or being sick everywhere. At different sessions he has managed all three and Emma made sure I had no reason to worry. She works around the baby's needs so carefully, thoroughly and gently and makes you feel very at ease, whatever happens. Treatment from Emma was invaluable for my son as a newborn, but has also been brilliant through growth spurts, teething, and after any sickness well into toddlerhood. As well as that, treatment from Emma helped my body recover after birth, and regular treatment has eased back pain from breastfeeding, lack of sleep, and recurring sciatica. I'd highly recommend osteopathic treatment from Emma to anyone who feels they, or their children, could benefit."